VariZoom VZCINEMAPRO-JR-K1 Remote Head mit Wheels
Professioneller Remotehead mit Wheels und Pro-onsole mit Joystick
Lieferzeit allgemein ca. 5 Werktage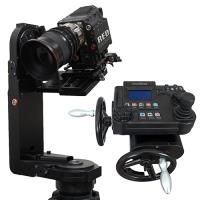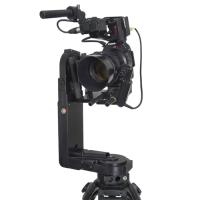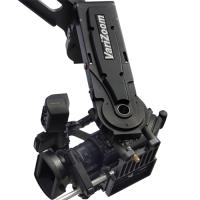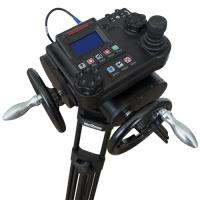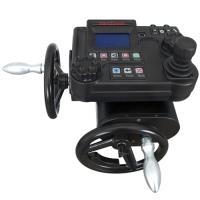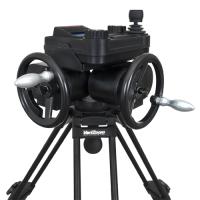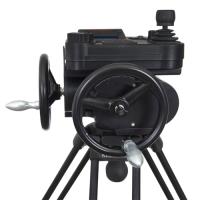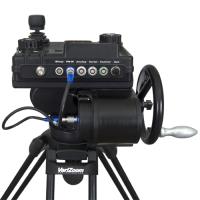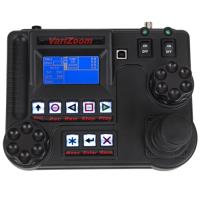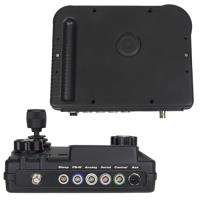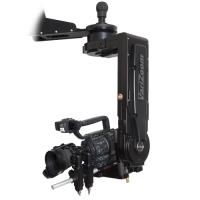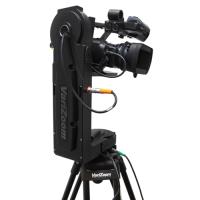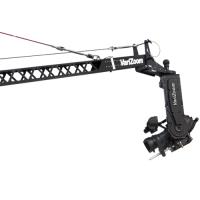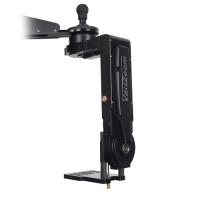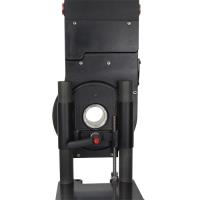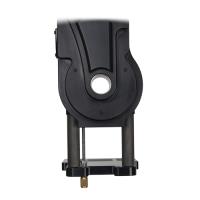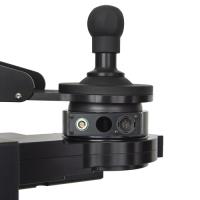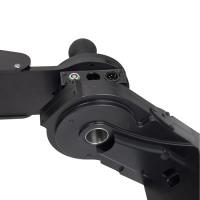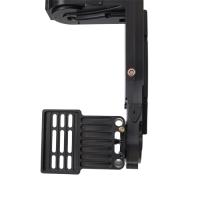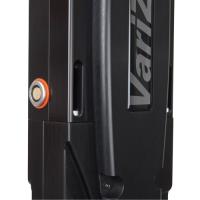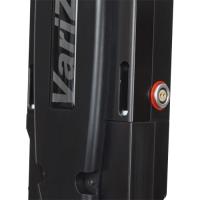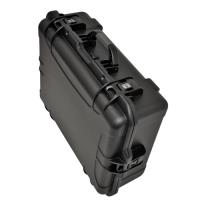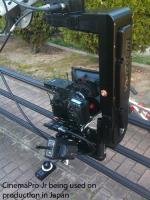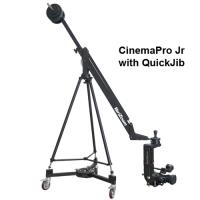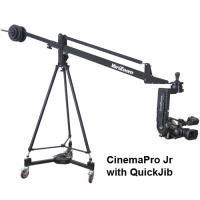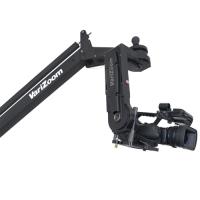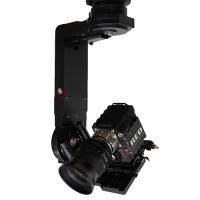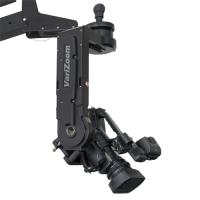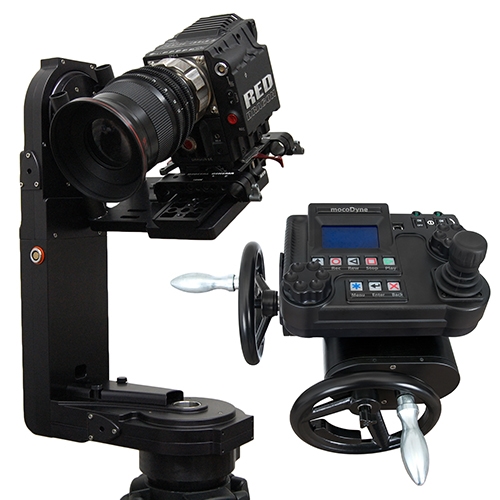 The VariZoom CinemaPro Junior Kit 1 ( VZCP-JR-K1 )

Main parts:
• Controller: Hand-Wheels
• Remote head for cameras up to 35 lbs.
• Advanced control console with joystick

CinemaPro Jr Remote Head w/ Cinema Hand Wheels
Paired with cinema-style hand wheels, the Cinema Pro Jr sets a new standard for value in true motion control. At only 13 pounds, the CP Jr is ideal for cranes and portable remote applications, and its superior programming capability and rock-solid electromechanical performance make it a perfect upgrade for the low-tech heads found on most jib systems. The enclosed, slip-ring based drivetrain provides no-maintenance, reliable performance in nearly any environment. This kit includes CP Jr head (100mm half-ball mount, Mitchell available), cinema-style hand-wheels control, limited-software advanced control console w/ joystick input, 50' control cable, AC adapter, 30' XLR power extension, and waterproof hard carrying case.

Utilizing our encoded hand wheels for fully independent, ultra-smooth pan & tilt, the CP JR-K1 offers cinema-grade motion control in a compact, user-friendly, affordable package. The Cinema Pro Jr borrows heavily from the acclaimed Cinema Pro master motion control system, and although it's scaled down about 35% in most respects, the CP Jr's baseline performance is remarkably close to that of its big brother. At only 13 pounds, the Cinema Pro Jr is ideal for jib and remote field applications, and its superior programming capability and rock-solid electromechanical performance make it a perfect upgrade for the low-tech heads found on most jib systems. The CP Jr sets up quickly with no twisting wires or tedious balancing process, and it's capable of extremely precise, repeatable movements at any speed. The CP Jr also performs extremely well as a high speed fixed-mount head or a feature-film quality motion control system for small to mid-scale productions.

Incorporating such high-end features as precision enclosed drivetrains, pan slip ring, recordable/repeatable motion control, built-in zoom/focus control, soft limits, and full parametric motion control settings, the CP Jr is unlike anything on the market at its price. Adding to its appeal is the seamless upgrade path for increased programming capability, multiple control input options, and compatibility with an array of existing Cinema Pro accessories. The Cinema Pro Jr is precision-made yet rugged and becoming the logical and affordable choice for a much broader scope of users than any head on the market. Cost effective not only for big budget motion pictures, but for worship facilities, sports, concerts, newsrooms,military,government, and other film, video, and HD applications.

Proudly Made in the USA, the CP Jr is constructed from body sections that are CNC machined from solid billet to exacting standards, so rigidity and structural integrity are second to none. The custom slip rings and robust motor drives are designed and tested intensively to perform flawlessly under the most demanding conditions, and the electronics & software have years of field testing behind them. Add to all this the painstaking assembly and QC done in our state-of-the-art facility, and you've got a motion control head of the highest caliber.

Standard Features
• Cinema-Style Hand Wheels for Fully Independent Pan & Tilt Control
• Built-In Zoom and Focus Control
• Console Joystick control for Pan, Tilt and Zoom; knob control for Focus
• Move between precise marks with variable speed/motion curves
• Record and playback a move up to 1hr
• Independently Programmable Max Speed for Pan & Tilt
• Independently Programmable Smoothing for Pan & Tilt
• Precise, Resettable Zero Point for Motion Referencing
• Up to 2500 feet between controller and head
• Custom Soft Limits for Pan and Tilt range of motion
• Fujinon, Canon and Preston serial and analog lens control
• Dynamic Zoom Compensation for extra smooth shots at telephoto
• Extremely Rigid Build w/ 100mm or Mitchell Mount
• Pan-base slip-ring for continuous 360° motion
• High-power Enclosed Drivetrain Allows Dynamic Moves
• Optional Intervalometer, Camera Sync, PC Data Share, Additional Marks & Takes

Achtung: Abbildungen können von dem aktuellen Produkt abweichen


Height 20.5"
Width 11.3"
Depth 6"
Weight 13 lbs
Camera weight 35lbs
Camera clearance (underslung) 15" min / 18.5" max
Pan/Tilt speed 130 degrees/second (limited for optimal performance)
Mechanical travel Unlimited Pan, Tilt may be limited by cable twist past 720 degrees
Power Requirements 24VDC (regulated) 5A
Warranty 2 years


Cinema Pro Jr F.A.Q.

What is the Camera Weight Capacity for the CP Jr?
35 lbs max; 25 lbs best for full performance.

Is there a Delay or Response Time for the Handwheels, Pan-Bars, or Advanced Controller?
When you turn the handwheels, move the pan-bars, or use the joystick, motion begins instantaneously (no lag time). There is no noticeable lost motion control between systems. As with the Advanced Controller, the Smoothing feature can be finely adjusted to tune the acceleration/deceleration behavior of the handwheels or the pan-bars, but all have instantaneous response time.

Can it Mount to a Jimmy Jib?
Yes, the Jimmy Jib adapter is available by special order.

What is the Intervalometer Mode?
Optional Upgrade on CP Jr - Allows recorded takes to be played back and stretched to any reasonable span of time (up to 999 hours). The built-in intervalometer provides a switch closure and triggers any camera that works that way.

What are Soft Limits?
The soft limit is a programmable motion range limit that independently restricts how far the head can pan or tilt while appropriately smoothing the stops so the head doesn't jerk or slam on the brakes, regardless of how fast it is moving. Soft limits can be set to any desired position or turned off completely.

The CP Jr is built with a Slip Ring in the pan base - What are they and Why are they Important?
A slip ring is an electromechanical device that allows the transmission of power and electrical signals within a rotating structure, eliminating the need for cables that can twist. Slip rings provide unrestrained, continuous rotation while transmitting power and/or data, enabling unlimited 360 degree turns. Cabled connections in a pan/tilt motion control head will twist up, creating mechanical resistance and potential connection failure. Additionally, since slip rings are internal, they are not as prone to failure as external cable runs that can be easily damaged. The CinemaPro uses high-quality, ultra-reliable custom slip rings.

What is the Voltage Range of the CP Jr Slip Ring?
Our slip rings can handle anywhere between 0 and 60 VDC, not to exceed 12 amps peak.

Does the system work only with analog servo motors like M28VP or is it also compatible with digital lens drives like the Heden M26VE?
It works with both.

Is there Iris Control through the Advanced Controller?
No. It is only set up as a two channel lens control for zoom and focus. Iris can be controlled along with zoom and focus through the TOC lens control system.

Can you supply a Y-cable for 2 Heden M28VP on the motor side with right angle connectors?
No.

Is the Pan Bars Option available with a Mitchell Mount?
NO.

What is Backlash? Is it a Problem?
Backlash is the amount of clearance between the gear teeth. If there is excessive backlash, it can cause some slop in the motion when reversing directions, and that is why we provide a backlash adjustment in the CP Jr for adjusting it to a minimum. Backlash can be easily adjusted - contact us.

On the Advanced Controller, how do you control Zoom and Focus?
The large knob on the lower left controls focus and the spring-loaded joystick controls zoom when you twist it left and right.

What Lens Motors are Compatible?
All Canon and Fujinon servo lenses (digital or analog) can be directly controlled through the Advanced Controller. You can also control external Preston, Heden, Bartech or Viewfactor lens drive motors, but you will need to power them through a motor control amplifier like an MDR2 or our TOC. All digital lens drives are controllable/repeatable through the CinemaPro's Advanced Controller; analog lens drives are controllable, but not repeatable.

Time Lapse?
Optional Upgrade for CP Jr - Using the Intervalometer Mode, the CinemaPro Advanced Controller is capable of stretching recorded motion control takes over a time span of 999 hours with variable frame, phase, and sync settings.

Cables

We can make standard control cables up to 1000'. 2500' is the electrical limit for the standard cable connection, although this amount of cable is typically only practical for fixed installations. Above 1000', fiber optic is a better option for in-field use, and it's good up to 5 miles. Wireless performs up to a mile with line-of-sight.

Storing and playing back multiple position points
The remote can store marked positions, and if you are running a digital lens, you can preprogram zoom and focus. Before you start programming your multiple mark positions, you want to calibrate the head to a known optical zero. You also want to be sure your tripod is sandbagged so it doesn't move around, or you will have to re-zero.
The two methods we use to calibrate the head are a little bit different, but setting up an optical zero is easier and less intrusive if you need to update your zero during record (e.g., in case someone bumps the tripod out of position).
After you've calibrated/zeroed the head, record all of your multiple positions or marks. Recall them by selecting "GoTo" - "Enter" - "Mark" - "Enter". To move between marks hold down the "Shift" button and press the "Play" or "Stop" button to toggle through your marks; you will see the number in the mark window change as you do this.


Passendes Zubehör gleich mitkaufen
Alternativartikel
ZubehörArtikel
Ergänzungsartikel