Basson Steady Infinia - 8 Achsen Hybrid Steadycam EH
Neue Ausführung der 8 achsen Stabilisierung Infinia von Basson Steady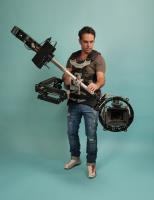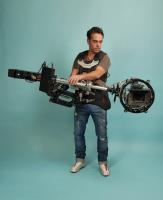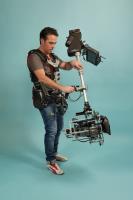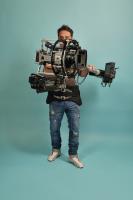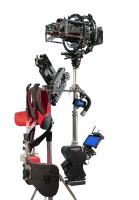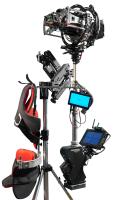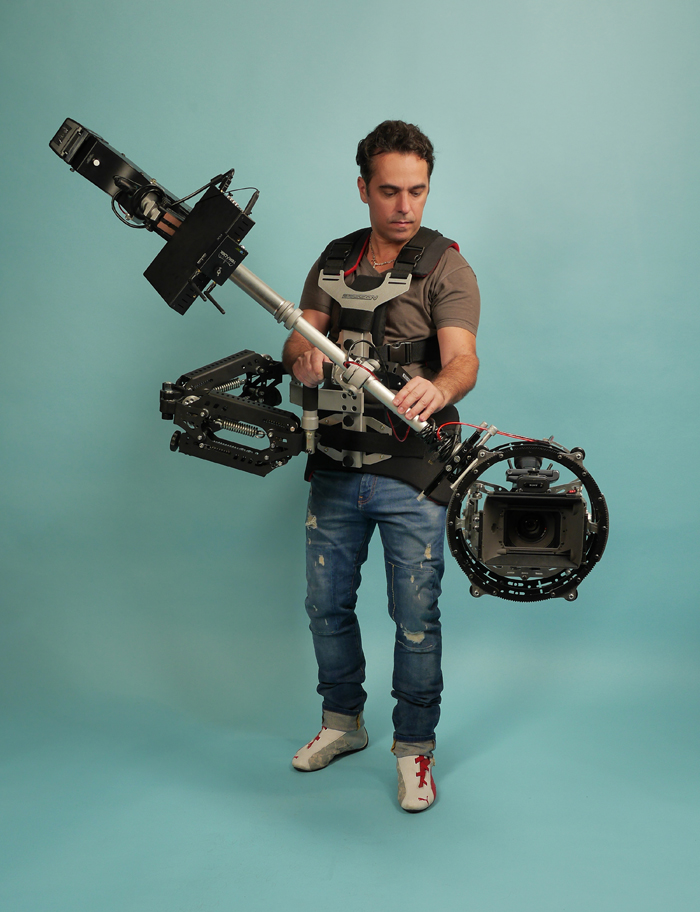 INFINIA - an 8 AXIS HYBRID CAMERA STABILIZER with ELECTRONIC HORIZONT with the new ISOLATE ARM with 6 springs for cameras from 1Lbs = 1/2kg up to 16 Lbs = 7kgs.

And without the wheel the range of weight supported is from 7 Lbs = 3Kgs up to 27 lbs = 12,5 kgs.
Price includes Free Shipping Worldwide door to door delivery by Fedex & Free Custom taxes up to 98%.

Product Info

The weight supported inside the wheel is lower due that the wheel already weights around 4.5 kgs = 10 Lbs, and due to the higher strength needed to hold it.
This NEW HYBRID 8 axis camera stabilizer it's a mix between physic-mechanic and electronic, best of both worlds, it comes with an electronic board controller that will hold the camera HORIZONTALLY STABLE all the time, regardless of the axis you are moving the steady.
It also allows you to control the PITCH and ROTATION with your hands as with any regular steady in order to let you point your camera wherever you want.
You can still tilt up and down up to 45 degrees without loosing the Electronic horizon stabilization.
The main difference between INFINIA and ENDLESS, is that ENDLESS also comes with other two motors for the Electronic PITCH, and also ENDLESS its 2 inches taller, but both have the same load capacity in weight.
Anyway this model INFINIA, on its favor will let you make TILTS, UP & DOWN with your hand as you always did before, so it's more like the same feeling as with a regular steady that of course solves the problem of the HORIZON, and of course will let you go from high mode to low mode in just 3 seconds and still use the footage no matter the axis of the steady, because the camera will be ALWAYS HORIZONTALLY BALANCED.

Another good one it's that INFINIA will let you use longer cameras due to the fact that you do not need to balance the PITCH inside the wheel, this way you have more freedom on the length of your camera, you just balance the camera inside the wheel, left-right and up-down with the micrometric knobs.
You can go from High mode to low mode in just 3 seconds.

It works with a SILENT MOTOR, It's nearly noiceless, so you can now use at live events and also use the sound of your camera microphone.

It comes with dual battery power sources, it includes a 24v lead acid battery and a V-mount socket for 14.4 Volt batteries.

It's a READY TO USE professional stabilizer, as any other steady requires physic balance, and for the electronic rotary wheel once its balanced you just need to press ON button to make it work.
It also comes with a new generation of shock absorber arm, this new version works as an ISOLATE double shock absorber arm with 6 springs, top technology for camera stabilization and weight distribution.
This new arm at least DUPLICATE the time you can hold the steady on your body, it also increases the absorption and produce a noticeable reduced fatigue on your back as a result of the isolate effect of the arm.

The new CENTER POST can hold two LCD MONITORS, to do that now it comes with a NEW GIMBAL MONITOR MOUNT, that allows you to have the monitor pointing directly to your face at a reduced distance regardless of the angle you are pointing the camera and regardless of the axis of the steady.
You can now shoot backwards while walking forward with your steady without compromising framing your shoot and also allows you to verify without any effort if the FOCUS IS CORRECT OR NOT. So there are NO MORE BLIND SPOTS.

This new monitor mount comes with a 14.4volts power cable and also an HDMI cable, this new way to mount the LCD MONITOR comes with a male 1/4" screw to hold any LCD monitor, we recommend to use a small LCD monitor such as the 7" smallhd or the new 5" smallhd monitor.
The other option with this gimbal monitor mount, due that the new cameras comes with bluetooth, is to use your own small tablet such as an ipad mini, iphone or android smart phone to use it as a monitor just by adding any holder compatible with your deivce with a female 1/4" socket.





Packing List

• 1 Hybrid Rotary Wheel with electronic horizon
• 1 Telescopic Anamorphic post ready to mount 2 LCD monitors
• 1 NEW ISOLATE double shock absorber arm with 6 springs and triple pulley system on each arm
• 1 Triple padded vest, with extended arm to reduce fatigue and swivel arm
• 1 Gimbal monitor mount.
• 2 Camera micrometric sliding plates with pivot head, the plate on top now its quick release
• 1 Socket for 14,4v V-mount batteries.
• 1 New bearing mounted low mass triaxial gimbal handle
• 1 Battery 24v Lead acid battery with charger 110/220 to 24v charger
• 1 Lighted Lcd display to see battery level, 2 female lighter plugs 12v positive to center.
• 2 HDMI Wires already installed inside the post
• 1 Introductory Cd rom, with strat up demo video as well as a pdf manual
• 1 Docking bracket adapter to adapted to any focus stand capable to hold 50kgs = 100 lbs
• 1 Warranty card + set up guide

We provide LIFETIME SUPPORT direct from manufacturer to the whole world, by email or phone 365 days a year.

Picture taken with V-mount battery, camera and Lcd monitors - all not included !

WHAT DO YOU NEED, THAT IT IS NOT INCLUDED - Please request if needed:
• Any 12v Lcd monitor.
• Any Stand capable to support at least 55 kgs / 120 Lbs at a height of 4 feet /1.30mts.
• Any V-MOUNT battery, and its charger.