Nyrius Aries Pro drahtlose HDMi Übetragung bis 50 Meter
Drahtlose HDMi Übertragung - Nachfolgemodell bald lieferbar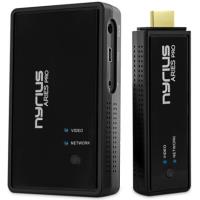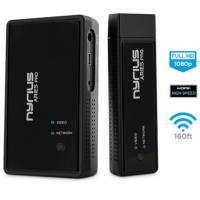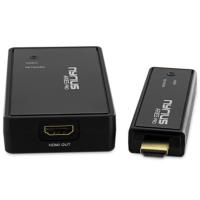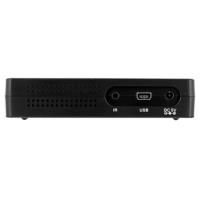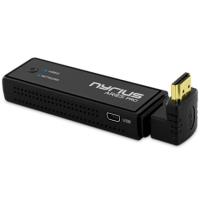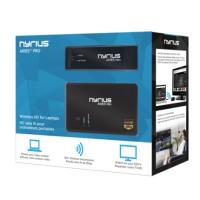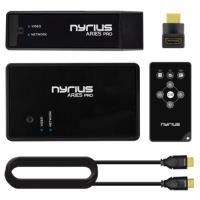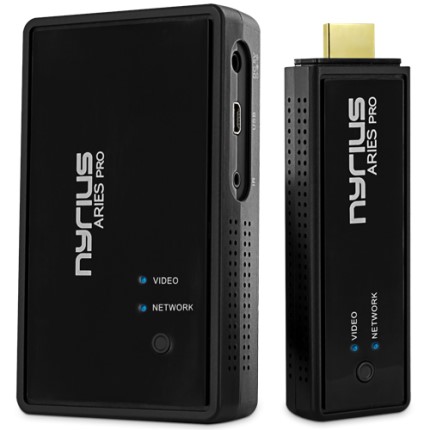 Nyrius Aries - Wireless HDMI bis 50 Meter - zurzeit leider nicht mehr lieferbar - vergleichbare Modelle finden Sie jeweils unten auf unserer Seite bei Alternativprodukte.

Bei Erscheinen von neuen Alternativen können wir Sie automatisch benachrichtigen.
senden Sie uns eine E-Mail an info@cvc.de - wir melden uns sobald etwas vergleichbares oder das Original wieder verfügbar wird !

Hintergrund: ein Chip der Nyrius Aries Pro wird nicht mehr hergestellt. Dadurch ist es dem Hersteller nicht mehr möglich die Geräte so günstig ( weniger als 500 Euro ) herzustellen.

- englische Originalbeschreibung -

Product Overview
Break free from your cable bill, and choose the content you want to watch, when and how you want it with Nyrius ARIES(TM) Pro. The Internet is an abundant source of movies and videos that provide an endless amount of entertainment and with Nyrius ARIES(TM) Pro you can stream it to your HDTV and home theatre system, wirelessly up to 160ft away. ARIES(TM) Pro takes away all the messy cables which makes it perfect for wall-mounted HDTVs and ceiling mounted projectors. It s the best way to stream TV, movies, browse the Internet and play games giving you the full 1080p.

TV and Movies Without Limits
Your PC or laptop can play every media format available, from any source. If you already have a collection movies and TV shows stored on your computer, and also want to watch new content from Netflix, Hulu, YouTube, or directly from a broadcaster s website, Nyrius ARIES(TM) Pro is the best option for bringing everything to your home entertainment system without running messy cables. You can easily stream 3D 1080p resolution to your HDTV or projector.

Simple Plug and Play
You want it to be simple, so that s exactly what we did. There s no software required for your computer and connects directly into an HDMI port

No Laptop? No Problem
ARIES(TM) Pro makes it easy to connect a desktop computer to your HDTV. Simply plug in a wireless keyboard and mouse into the receiver s USB port (adapter included) and you can have full control of your desktop from your living room. With the flexibility of being able to connect up to 8 transmitters to one receiver, you can also use ARIES(TM) Pro with devices that have a USB port to power the transmitter. Connect to your PS3, Xbox, satellite or cable receiver and switch between transmitters with the included remote.

The Longest Range Available
This thing is strong. Really strong. Offering the longest range available in wireless HDMI, ARIES(TM) Pro can stream uncompressed 3D and 1080p video and audio up to 160ft away passing through walls and floors with ease. Whether your computer is in the same room or at the opposite end of your house, ARIES(TM) Pro always transmits razor sharp video and audio without any latency. This powerful digital signal will not interfere with Bluetooth or Wi-Fi signals throughout your home.



Whats included:
Digital Wireless HD Transmitter
Digital Wireless HD Receiver
Velcro strips
External IR Receiver
Velcro Strips
100-240V AC Power Adapter
5 ft HDMI Cable
Right Angle HDMI Adapter
USB Power Cable
Female USB Adapter


Specifications
Wireless Technology GigaXtreme Technology

System Requirements
Any source device with an HDMIae such as a Blu-ray, PS3ae, Xbox 360ae or cable box. Optimized for use with a laptop or desktop system containing an HDMI port including popular models from these manufacturers: Alienware, Lenovo, Dell, HP, Acer, Apple (Display Port cable not included).

Ports and Interfaces:
HDMI, Micro-USB

Environmental Requirements:
Operating temperature: -10° to 40° C Storage temperature: -20° to 80° C Relative humidity: 15 ~ 8 5 %RH

Power:
5V / 1A (Transmitter) 5V / 2A (Receiver)

Video Formats:
TV: 1080p, 1080i,720p, 576p, 480p PC : 1920x1080, 1280x1024, 1024x768, 800x600, 640x480

Audio Formats Supported :
PCM , DTS , Dolby Digital 5.1 surround sound

TV Compatibility:
Any high-definition television including 3D TVs containing an HDMI port, including popular models from these manufacturers: Hitachi, JVC, LG, Mitsubishi, NEC, Panasonic, Philips, Pioneer, Samsung, Sony, Sharp, Toshiba, Vizio, Westinghouse

Wireless Range:
160 feet open space (clear line of sight)

Transmission Frequency :
5.15 ~ 5.25 GHz 5.25 ~ 5.35 GHz 5.47 ~ 5.725 GHz 5.725 ~ 5.850 GHz

Transmitter Dimensions:
Length: 3.85 inches (98mm) Width: 1.14 inches (29mm) Height: 0.57 inch (14.5 mm)

Receiver Dimensions:
Length: 3.89 inches (99 mm) Width: 2.2 inches (56 mm) Height: 0.81 inch (20.5 mm)


Ähnliche Artikel und Zubehör▲